Kim Kardashian finally responded to Balenciaga's new campaign which has since been pulled. For a few days, Balenciaga came under the scanner for their alleged pedophile portrayal in their new campaign. For the uninitiated, the brand's Instagram handle had launched a photo campaign featuring teddy bears in bondage gear. Some netizens also claimed Balenciaga's campaign photos included a legal document mentioning the "virtual p*rn child" in the background as a prop. The images were very disturbing to everyone. Netizens called out Balenciaga for its portrayal of toys in the campaign which also included children. Kanye West, which was dropped by the brand a few weeks ago, also spoke about the campaign. He called on all celebrities to be quiet on the same subject. And finally, now Kim has reacted to the same thing.
Kim Kardashian reacts to the Balenciaga campaign
Hollywood News is full of the Balenciaga scandal that has been going on for a while now. Kim Kardashian, who is a frequent collaborator with the brand, released a statement saying she had remained silent for the last time, she said she was disgusted and outraged and wanted to take some time to talk to the team and understand and assess how it all went.
Kim Kardashian, an entrepreneur and socialite, said she was shaken after seeing the disturbing footage. "Any attempt to normalize child abuse of any kind should have no place in our society," Kim said in one of his tweets.
Kim Kardashian talks about Balenciaga and its future
The Keeping Up With the Kardashians star "appreciates" Balenciaga's removal of campaigns and his apologies. Speaking about her future with the brand, Kim didn't say if she was leaving the brand but did mention "reassessing her relationship" with Balenciaga. Check out screenshots of Kim Kardashian's statement in the tweets here: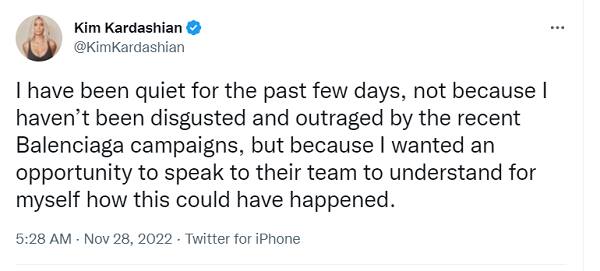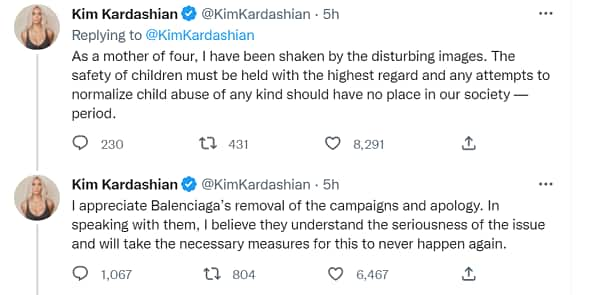 Netizens felt that Kim should have directly cut all ties with Balenciaga as soon as the campaign exploded. Gabriele Galimberti, the photographer who shot the campaign, has long been under fire from critics. He faced all the hate he received online after the live campaign. Some said he might have refused to shoot in the first place. Lotta Volkova's name also surfaced. Balenciaga issued an apology stating that they are taking legal action against parties responsible for creating the set and including unapproved items for their Spring 23 campaign.