Parineeti Chopra and Harry Sandhu are all ready to entertain us with their next movie Code name: Tiranga. Let's take a look at the teaser below!
Codename: Tiranga Teaser:
Realized by Ribhu Dasguptathe film revolves around the 'spy story on a relentless and fearless mission for his nation in a race against time where sacrifice is his only choice.'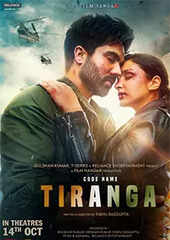 According to reports, Parineeti will be seen in an action role and Harrdy seems to be playing some kind of local contact in Afghanistanwith whom she develops a relationship.
Code Name: Tiranga Movie Release Date:
October 14, 2022 in cinemas.
Also read: After Kesari, Parineeti Chopra and Akshay Kumar together in a NEW FILM?